Update November 2015
Click here
for the planned events. Browns Bay Presbyterian Church is having its Golden Jubilee In July 2015 a celebration services and events are planned for this Golden Jubilee.
Watch this space!
This week @ BBP
Monday 23th
Office is CLosed.


Tuesday 24th
10.30am Presbyterian Women's Meeting in church and pre-Christmas party at the church.

7.00pm -7.30pm Tuesday Home Group - Prayer Meeting in the church We will be praying for Christmas. What it means. What should it mean? Why does the message get lost? Coffee & biscuits will be served at 7.pm. See you there Sean.

7.30pm Home group at Dave & Jeanna Sheppard's, 21 Ellangowan Road, Waiake. Ph.473-6249.
7.30pm Tuesday group at BBP. Contact Sean Cloete Ph.027-555-1207.
Wednesday 25th
8.30am Prayer in meeting room 1.

7.30pm Val and Miles English's home group, 8 Ponui Place Mairangi Bay. Ph.478-4042.
Thursday 26th
10.00am Jessie William's home group at 9 Orne Street, Torbay. Ph.473-9547.

6.00pm Thursday prayer in meeting room 1.
7.30pm Board meeting in the foyer.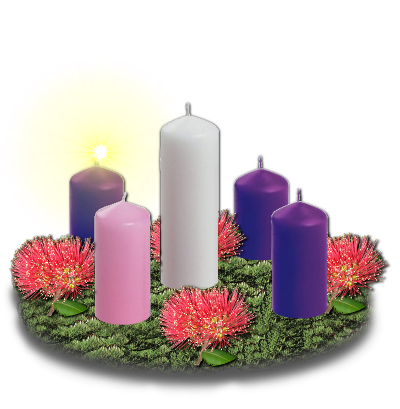 Friday 27th
10.00am Mainly Music

4.00pm - 5.00pm Bible meditation in meeting room 1. All welcome.
1st Sunday of Advent 29th Hope
10.00am Morning Worship & Kids' Church.

On the First Sunday of Advent:

We light this candle in hope.

Jeremiah 33:14 page 1231

God of hope,
out of death you bring life.
Renew us in hope,
so that we may be alert
to the dawning of Christ's advent among us.
God of promise, God of hope,
into our darkness come.
Readings
15th November
1 Corinthians 13:11- 1 Corinthians 14:5;
1 Corinthians 14:14-15 & 26
page 1787-1788
Ephesians 5:15-20 page 1823
John 4:16-24 page 1652

22nd November
Ephesians 2:6-10 page 1819
Matthew 25:31-46 page 1542




29th November
Malachi 3:1-4 page 1490
Luke 3:1-6 page 1593
Matthew 12:9-21 page 1574



Coming Up
Friday 4 December 1.30pm Rest Home Visit.Our last visit for the year will be at MAUREEN PLOWMAN rest home, Valley Road, This will be a Christmas Carol event. A plate to share please. Miriam 475-9459.

Friday 4 December 6.00pm Messy Church.

Christmas at BBP click here for information
Regular Notices
Pastoral Care: Please contact the church office with any pastoral concerns.
mainly music Meet in the Family Centre at 10.00am.
ICONZ The ICONZ Adventure Unit for boys aged 8-12 in recess. Enquiries contact Robin Palmer phone 478 2441
Prayer Needs:­
bbpprayer-subscribe@yahoogroups.com
Our Mission: building loving communities that help people find and follow Jesus