Update April 2015
Click here
for the planned events. Browns Bay Presbyterian Church is having its Golden Jubilee In July 2015 a celebration services and events are planned for this Golden Jubilee.
Watch this space!
This week @ BBP
Monday 18th May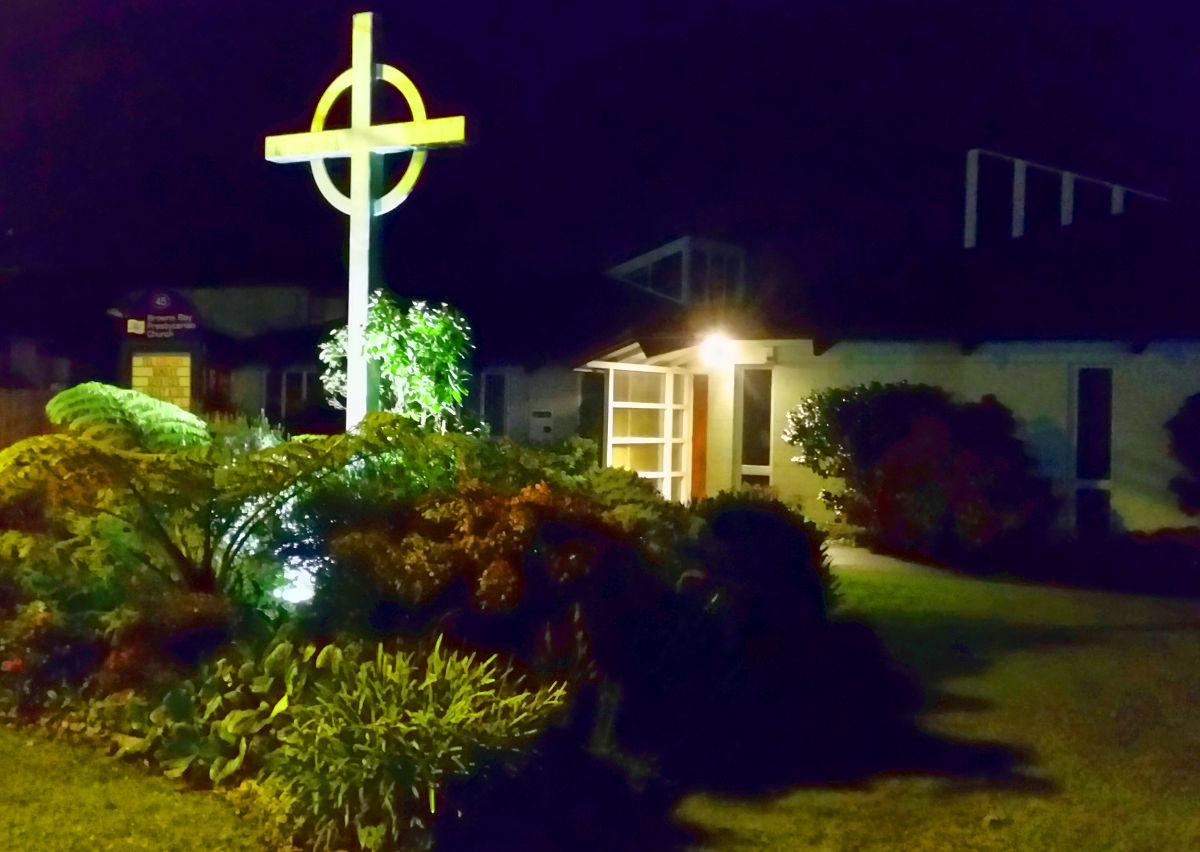 Office Closed.
Tuesday 19th May
10.30 am Presbyterian Women's Morning
7.00 pm Tuesday home group in upstairs in family centre.In Recess untill after the Alpha Course is compleated.
7.30pm Home group at Dave & Jeanna Sheppard 21 Ellangowan

Wednesday 20th May
8.30am Prayer in the meeting room
10.00am Rosedale Service at Rosedale Village.

7.30pm Val and Myles English Home Group at 8 Ponui Place, Mairangi Bay.
Thursday 21st May
10.00am Jessie Williams Home Group 9 Orne St Torbay.

6.00pm Thursday Prayer in the meeting room
7.30 pm Session Meeting in the foyer

Friday 22nd May
10.00am Mainly Music in the Family Centre.

4.00pm Bible Meditation in meeting room
10.30am- 12.00pm Coffee Morning in church foyer. All welcome. -->
Sunday 24th May Pentecost Sunday
10.00am Combined Service with Children's Church


Readings
10th May
Romans 5:1-11 page 1752
Matthew 11: 28-30 page 1514
17th May
Romans 6:1-14 page 1754
Matthew 6:24 page 1505
24th May
Acts 2:1-4 page 1692
Romans 8:18-39 page 1757
Coming Up


ALPHA COURSE at BBP Winter 2015 We will be running an Alpha course (www.alpha.org.nz) at the church during July and August. As you will appreciate if you have been involved with Alpha before it takes a serious amount of organising both for participantas well as organising support. Apart from the participants we will also require a team to help with preparation of meals as well as for tea and coffee. So, if you are interested in being a part of this wonderful occasion - either participating, or as part of the organisinteam please contact either the Church Office or any of the elders or Sean Cloete. This maybe a wonderful opportunity for your Home Group to participate.


Regular Notices
Pastoral Care: Please contact the church office with any pastoral concerns.
mainly music Meet in the Family Centre at 10.00am.
ICONZ The ICONZ Adventure Unit for boys aged 8-12 in recess. Enquiries contact Robin Palmer phone 478 2441
Prayer Needs:­
bbpprayer-subscribe@yahoogroups.com
Our Mission: building loving communities that help people find and follow Jesus
Test for copyright information